CUTTING KIT FOR BONE IN HAM - CLASS LINELINE

Very safe design knife

Calibrated gap (0,8 mm) for carving perfect ham slices

Specially design blade (only 12 mm wide and 28 cm long), which allows you to carve right to the bone

Allows you to cut 100% of the piece of bone-in ham


Made of 100% stainless steel

Surgical stainless steel blade (High Strength Steel), requires less frequent sharpening

Premium ilex

wooden

handle

Solid wooden case (to protect the knife blade)


Includes wrench (assembly / disassembly)

Knife weight: 290 gr

Patented System

Premium Hand Made,

Albacete, Spain



PRODUCT DETAIL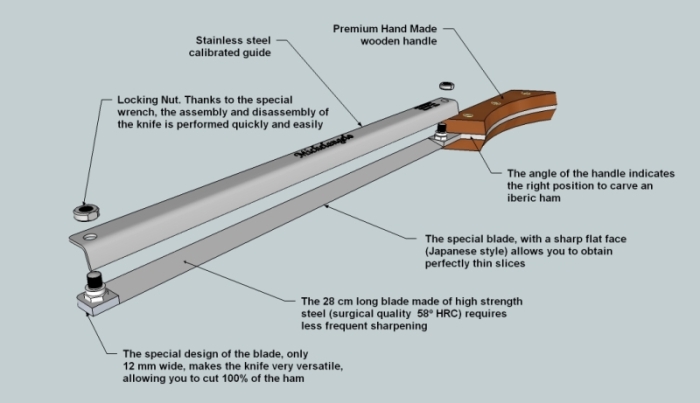 IMPORTANT

This is a "fine-gauge" knife, specially designed for use with Iberian ham or (minimum) 15 months old dry-cured ham.

There are two models of knives, right-handed and left-handed (please indicate your preference when ordering). All the knives shown in the pictures are right-handed.

For more information please contact us at: export@michelangelo.es
Product Description
The Michelangelo knife is designed to maximise carving performance, because it always allows you to carve to the bone and get perfects slices, even in difficult areas of ham. Michelangelo's special blade which is only 12 mm wide with a sharp flat face (Japanese style) allows you to carve like a professional, always resulting in thin slices. It allows you to cut 100% of the piece of ham, in a totally safe and incredibly easy way, providing professional results, as you can see in the following video:
PRODUCT CHARACTERISTICS
The high quality steel used in its blade allows you to easily restore the blade to factory sharpness. The use of a high strength steel blade (surgical quality), requires less frequent sharpening than other ham knives. The sharpening process using diamond sharpening steel or whetstone is a quick and easy task.
The knife is well finished and comes with a premium wooden case that protects the knife blade when it isn't being used (it's important to note that the main damage to the edge is caused by contact with other hard objects or surfaces). The handle of the knife is hand-made of selected high quality ilex wood.
CUTTING KIT FOR BONE IN HAM - CLASS LINE (IBERIAN HAM)
Premium Handmade: Making a Michelangelo requires a great amount of work that needs to be carefully performed by the hands of Albacete's best knife making experts. The care taken and the accuracy used when sharpening and adding the final details, make each and every Michelangelo a unique piece. Each creation is a true reflection of the time taken and the dedication given by the knife-making master.